HOLE IN THE WALL | A CONSORTIUM OF RENEGADES, MISFITS AND MALCONTENTS, INTENT ON BETTERING THE WORLD, THROUGH THE ART OF FILM AND STORY TELLING...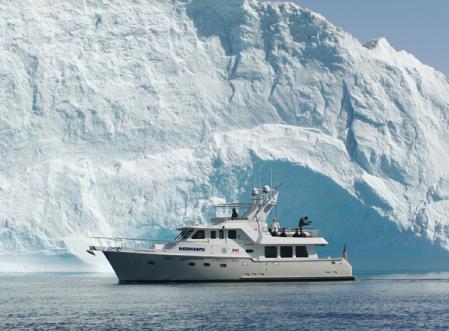 The crew of the Nordhavn 57
Bagan
takes a close look at icebergs south of Disko Bay, Greenland, while Sprague Theobald captures footage for his upcoming documentary.
Bagan transits the Northwest Passage
Filmmaker Sprague Theobald has completed a five-month voyage from Newport, Rhode Island, to Seattle that saw Bagan, his Nordhavn 57, transit the treacherous Northwest Passage across the top of the Americas. READ MORE . . .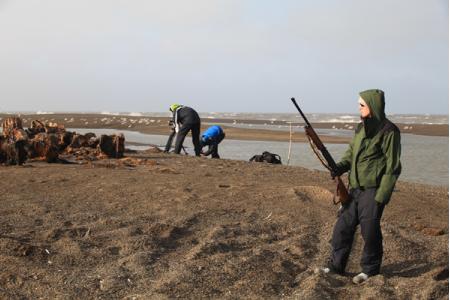 http://www.trawlersandtrawlering.com/news/bagantransits.html
Theobald asks we keep an eye on his blog for developing news about the project, and for readers who want to chime-in to vote for scenes to be included or excluded from the documentary and TV series. Visit
www.NorthwestPassageFilm.com
.
Click here
to listen to an interview with Theobald at Soundings Online.
The first powerboat to transit was David Scott Cowper with Mabel E. Holland, a 42-foot converted lifeboat, who circumnavigated the world via the Northwest Passage in 1986-1990—singlehanded.
ARRIVED AT BEECHY ISLAND
Date posted: August 4, 2009
We arrived at Beechy Island yesterday around 2:00 in the afternoon in a dieing breeze. The weather window has held beautifully for us and it's my dire hope that these days of grace extend through the Bering Sea! Beechy Island is a "ground zero" for me. This whole trip/documentary has been to travel the passage, but the fact that this was the last true known area where the Franklin Expedition was intact, for me, is the hallowed of the hallowed. Hundreds of lives have been lost trying to find this passage but no expedition has garnered more attention and mystery than that of John Franklin's. Long story short, he left England in 1850 with two ice proven ships (they were the ships that "discovered" Antarctica) with 128 men. The expedition was to last two years. Neither the men nor the ships were ever heard from or seen again. Over 30 international expeditions went in search of the missing Franklin Party. Apart from some artifacts that local Inuit had, an occasional found pile of sawed bones (suggested cannibalism) and an extremely confounding note which was left in a cairn on King William Island, Franklin's Expedition remains one of history's largest mysteries.
For their day, these men were international heroes, not unlike our astronauts. Their ships were the equivalent of say, our Gemini program, state of the art. Their complete and utter disappearance would be akin to that of Neil Armstrong landing on the moon and simply vanishing. I am extremely humbled and awe struck that Bagan now rests on her anchor in the very bay Franklin's two ships, the 'Erebus" and the "Terror" were trapped in the ice for two years.
Once settled in, the shore and filming parties were arranged. Greg and I broke out the dry suits and did an hour long dive. The bottom is as featureless as the landscape here; it's flat and seemingly goes on forever. Small sea urchins and clams pock-mark an otherwise devoid ocean floor. The water was 40 degrees and the visual around 80'. After a little over an hour we surfaced with some fantastic HD footage (each day's coverage gets better and better!) of a very intriguing bottom feature. Even though we have underwater communications with each other as well as the surface it was extremely reassuring to surface and see Sefton, Chauncey and Dom's smiling faces. Clinton was manning the underwater coms and was also in charge of polar bear watch with rifle at the ready. Shortly before I surfaced I remembered a comment I heard in Halifax regarding polar bears; "If you see one, the chances are that he's been hunting you for quite a while." They've been seen swimming over a hundred miles from land.